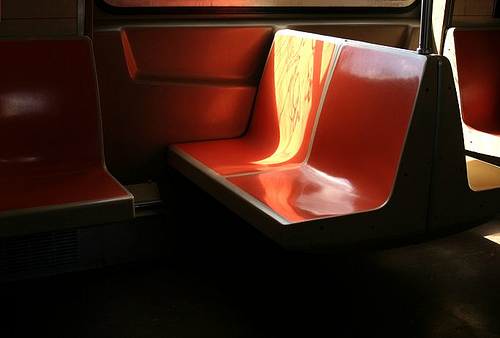 I almost burst into tears on the subway on my way to work yesterday morning. There was a woman on the train sitting across from me, looking uncomfortable perched on a corner seat. Her legs were planted wide apart, her feet pushed into black therapeutic-looking sneakers that were unlaced and seemed too tight. She was wearing all black, with thin cotton lounge-type pants on the bottom and a long cardigan on top. Her eyes looked puffy. She didn't look up once from the newspaper she held in her hand. She was very heavy—morbidly obese.
I always glance around on the train observing people and just taking in people's faces, trying to guess what they're thinking, what they're going through, where they're headed. But when I looked at her, tears stung my eyes and I had to look away. Why? Because she looked like she was in pain, emotional and maybe even physical. Because I've sat next to countless men and women in my binge-eating support groups who cried as they described the way it felt to have the flesh of their legs spill over the edge of a seat; the guilt they felt at taking up "more space than they deserved;" the humiliation of having to ask flight attendants for seat belt extenders; the dirty looks of strangers on the street.
Watching her reminded me of how I felt all those years I was active in my binge eating disorder. My weight yo-yo-ed up and down—at any given time I could be anywhere from 150 pounds to the 225 pounds I weighed at 22. But no matter what I actually weighed or looked like on the outside, I always felt obese on the inside. Do you know what I mean? I felt out of proportion, out of control, different, I felt like I was wearing my disorder on my sleeve, I felt uncomfortable in my clothes.
Those are the awful feelings I imagined this woman on the train was experiencing, and it made me want to cry—for both of us. I know it's none of my business. For all I know that woman has never binged a day in her life and feels completely fine right where she is! But seeing her reminded me of how I felt inside for so many years, and of the intense pain that millions of young women (guys too) are going through right now. Bingeing sucks and it hurts. And I'm just so sad for everyone who's suffering through it alone.
Thankfully, not all of us are going through it alone, and recovery is possible. Sorry if the post was a bit of a downer today, guys, but please feel free to share anything it may have brought up for you.
xo…Sunny


Tweet This

[photo]