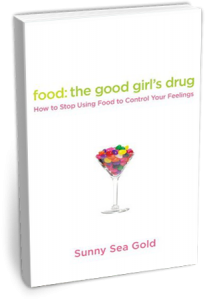 Happy BookClub day! I'm so sorry for missing the last two weeks of posts (see why). But I'm here now, so let's keep going with Food: The Good Girl's Drug.
Chapter 2 is all about things that emotional overeaters/binge eaters tend to have in common: Eating in secret, lying about what we eat (even to the point of stealing food), eating strange food or combinations of food sometimes (especially if nothing "bad" enough is readily available). But the one common experience I want to focus on in this post is choosing food over people.
When my binge eating was really bad, I would isolate all of the time. I would cancel plans with coworkers in order to go home and binge; I would make up excuses right before I was supposed to show up somewhere because I suddenly felt too fat and scared to go out—and then would of course end up bingeing; I would end an evening out with friends or a date early so that I could go home and be alone with food. Any of that sound familiar?
I used to feel guilty about all the isolating and "missing out" I did. I used to regret that I "wasted" so much time with food when I could've been out connecting with people or having new experiences. But I realize now that when I was doing that, I wasn't really choosing FOOD over people, I was choosing myself. I was trying to take care of myself, I just didn't have the tools to do it in a healthier way.
I found that letting go of that guilt and regret—around my behavior with friends, family, and loved ones, and my behavior with food—was key in moving on.
Now, your turn: Did you or do you continue to choose food over people sometimes? Do you still have any lingering guilt or regret about the ways you may have isolated or chosen food over people or over life? If so, how can you start to forgive yourself and replace judgment with compassion? xo…Sunny
Next week's BookClub post will be Friday, June 17, and we'll be talking about Chapter 3—the origins of our weird relationship with food.