Today's the first day of the HealthyGirl.org BookClub featuring on my book, Food: The Good Girl's Drug! For those of you who haven't had a chance to get a copy (or don't want to—hey, that's OK), you can read most of the first chapter in these excerpts here, here and here. Just to recap, each Friday for the next several weeks, I'm going to choose one section, exercise, or journaling question from the book to focus on in the BookClub post. (If you have been reading the book and have any suggestions for particular sections or topics you'd like me to discuss here, please leave a comment or email me!)
So, at the end of each chapter of the book, I or an expert give a few journaling questions for readers to tackle. My book is a pretty easy read for people who relate—I've had girls and women tell me that they read it three times in a week!—but it was never meant just to be read. The journaling questions and exercises throughout the book are meant to help you process everything you're reading. To give it a chance to soak in, to make a difference. Not very many of us can learn, and change our behaviors, simply by passively taking in information.
I know I couldn't. So I really encourage all of you who are reading along to take the time (OK, maybe on your second read if you must get through it quickly the first time) to stop and do the work. Buy a special journal or notebook that goes along with the book. Treat it like a workbook. If you're going to invest the $15 (or $8, I think, if you bought it on Amazon!), make it worth it.
OK, enough of me admonishing you to take out your pens and paper—let's get right to one of the exercises at the end of Chapter 1: Recording your food, weight, and body history. For me, taking a good long look at my patterns with those things was an important step in recovering from binge eating. A quick rundown of my weight and body history:
Childhood: Healthy weight, a solidly built girl. Mom thought I was borderline chunky and at risk of getting "fat"—fear about fat and food started creeping in around 7 or 8
Age 15: Started bingeing occasionally to soothe myself during parents' divorce; still at a healthy weight
Age 16: Started putting on pounds—partly naturally, just filling out into a more womanly shape, but also because of increased binge eating
Age 19: Was officially "overweight" for my height and body shape from bingeing. Lost 20 pounds on a terrible high-protein doctor-supervised diet.
Age 20: Transferred to a four-year college from my community college; got married (long story! It didn't last long. Let me know if you want to hear about it sometime. :)) Gained all the weight back, plus some. Intermittently dieted or fasted.
Age 22: Became clinically obese due to almost daily binge eating. Weight peaked at the heaviest I'd ever been, but I continued to try to "diet," and took herbal diet pills almost daily—which landed me in the doctor's office with racing heartbeat and high blood pressure at one point.
Age 23: Dropped 40 to 50 pounds during divorce process, mostly from natural anxious energy. Continued to diet or fast to try to offset the effects of the frequent-but not daily-bingeing.
Age 25: Moved to New York City after college. Again became "overweight" for my body frame due to bingeing. But began therapy and started to worry a little less about my weight so much and focus more on my issues and my happiness.
Age 27: Momentary loss of reason, went on Jenny Craig and lost 20 pounds. Gained it all back. Binge eating worsened after the diet.
Now, looking at my history up to this point helped solidify for me that I really wasn't in control of my eating, and that nothing I had been trying to do (a.k.a. dieting, fasting, taking pills, or simply willing myself to stop overeating) was working. It finally clicked for me. I got it. What I was dealing with really wasn't about weight or food—at all. It was all about me and how I treated myself, how I felt about myself, and what emotional needs I was trying to fill. Now, for the rest of the history:
Age 27.5: Realized that DIETING was part of my binge eating problem and that I was more important than my weight. I didn't care if I ever lost another pound again. Quit dieting completely and continued therapy. Binge eating slowed more. Trained for and jogged the New York marathon!
Age 28: Binge eating slowed to a trickle. Weight stabilized at a point that was officially "slightly overweight" for my height, but I truly felt fine about my health and my shape. Continued therapy.
Age 29: Weight was stable. But I wanted binge eating to STOP completely; started going to a weekly support group in addition to therapy.
Very early 30s: Was completely recovered from binge eating. Very gradually let go of some more weight after the bingeing ended and stabilized at a very reasonable, comfortable, and healthy set point for my height and shape.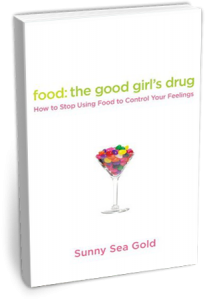 Now it's your turn: What's your weight, food, and body history? Did you yo-yo like me, dieting and bingeing, weight swinging from year to year? Or have you been "overweight" since childhood? (I use "overweight" in quotes because the definition is highly debatable, and there is so much natural variation in body shapes.) Or, have you always been slim despite your binge eating? What can you learn about your patterns and your relationship with food and your body from looking at your history? xo…Sunny
Next Friday's BookClub: How do you describe your issues with food?
[bookbag photo via Coco Mault]