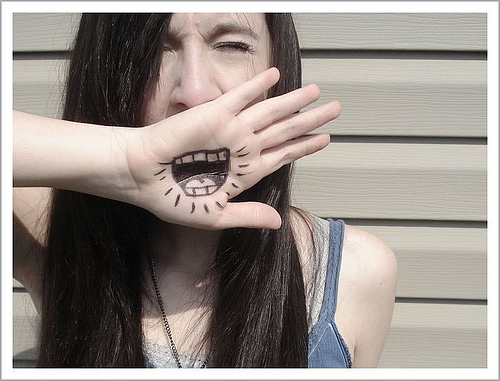 I was talking to a friend a few weeks back about the mutual experience of eating instead of speaking up or using our voices. This idea is something that came up a lot for me when I was doing a lot of recovery work. Using my voice, asserting myself, and saying how I feel or what I need is something I struggle with in general—and I have come to recognize it as something tied up with some of my food and body issues.
I suppose it makes some sense. Food is often an easy thing to grab to quiet down the unpleasant feelings that come along with not saying what I need or want to. But overeating in order to push down feelings of not honoring myself by speaking up is further self-destruction and self-betrayal. It's a cycle that doesn't feel good at all.
In the end this doesn't make anything better—I haven't said what I need to say, AND I've just eaten perhaps something I didn't really need or want.
After a fair amount of journaling and some support group talk I could see that sometimes my eating habits were a direct result of me not speaking up (even in very, surprisingly little ways, i.e. "Hey, I was actually in line first!"). I realized that I was sometimes asserting myself through my eating, but when that happens the only person I am truly hurting (or asserting in a backwards way) is myself. Eating isn't communicating anything to anyone else, only further dis-empowering myself and my voice. It's a tough spot to be in, but one that I think might be relatively common.
I think that the biggest thing for me was recognizing this as a pattern so that I can be proactive and learn how to react differently than I might initially settle with. The thing that was important for me to work on was getting more comfortable and confident using my voice and speaking up (which I must say, isn't always easy, but highly necessary!). It takes practice (for everyone!) and is something that I continue to work on everyday to make sure that I honor myself and SPEAK UP! It's sooo important and I didn't realize, until after, how closely it was tied to a lot of my food and body stuff.
Do you ever find yourself eating instead of using your voice? —Morgan

Tweet This