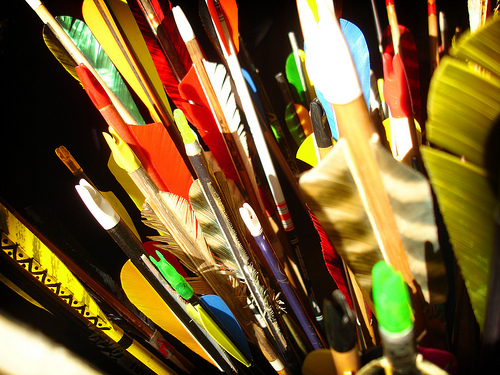 Okay so I'm sorry to bring up the conference that I went to this past weekend again, but there's just another great thing that was talked about that made me think so much about HealthyGirl.org stuff. It was referred to as the "Second Arrow."
The first arrow can be thought of as the first thing we shoot (or deal with)…example: the emotion that comes in the beginning of feeling negative…it could be anger, fear, confusion, anxiety, guilt, FAT (even though it's not a feeling), whatever.
Then, the second arrow is the one that we shoot following that, the one of self-hatred and self-criticism, judging whatever it is we shot with the first arrow! Essentially the, "I should be different than this." Examples of this could be: "I shouldn't feel this way," or "There is something wrong with me for feeling this way." How do we get to a place where we feel at peace and accept ourselves when we are deep at war with ourselves?!
After a binge, if one might feel shame, the second arrow compounds the shame by feeling shame for how we feel and its easy to make it our fault for the way that we are inherently. This can then lead to a lot of unnecessary suffering.
This made me think more about how to interrupt the process of starting a war inside myself, because I think it perpetuates a cycle that exacerbates a lot of the behaviors I've worked at changing. An example:
First Arrow: Uhh..I'm really full! I didn't listen to my body! I overate! I wasn't really hungry! I feel bad and guilty!
Second Arrow: Gah, don't feel guilty! You shouldn't feel guilty! Stop feeling guilty! Something is seriously wrong with you. Here we go again.
I haven't totally come up with all the answers yet (maybe you guys have some ideas?), but I do know that I can be more aware and practice being gentler with myself, stopping the voice inside that says, "I'm not okay…[for whatever it is in that moment]," and "It's not okay that I feel…" and making a real effort to not shoot off a second arrow!
Do you guys ever have an experience kind of like this? What are your first and second arrows? Have any good ideas for stopping the arrows? —Morgan

Tweet This
[photo]